2023 Spring Fling at Anthony's Fish Grotto:

Make reservations Now!
Our Annual Banquet has been resurrected with a lunch buffet and will

feature a presentation by Club Member Eric Pierson who will

also be our Outstanding Alumni Award Recipient.
On Sunday, April 2, from noon until 4:00 the Illini Club of San Diego County will have a Lunch Buffet at Anthony's Fish Grotto in La Mesa. Anthony's has been a favorite in San Diego and is still operated by the Ghio family. Their La Mesa location is on a natural spring-fed lake. It provides a beautiful location for our lunch buffet at covered tables outside next to the lake. This will be a relaxed event with time to mingle with your fellow Illini. Servers will provide drinks from a no-host bar, followed by a buffet lunch. After a short business meeting to present club officers, an entertaining and informative presentation will be by Dr. Eric Pierson.

The Venue for Lunch - We will be located on the reserved patio. -
-
The Sunday Lunch Buffet features:
Mama Ghio's New England Style Clam Chowder

Crab & Mac Salad

BBQ Shrimp Skewers

Miso Salmon

Hamburger Sliders

Cole Slaw

Field Green Salad

Warm Rolls

Signature Sundried-Tomato Butter

Assorted Cheese Cake Bites & Chocolate Mousse Cups

Coffee, Tea, & Soft Drinks
-
THE FEATURED SPEAKER and HONORED GUEST: Dr. Eric Pierson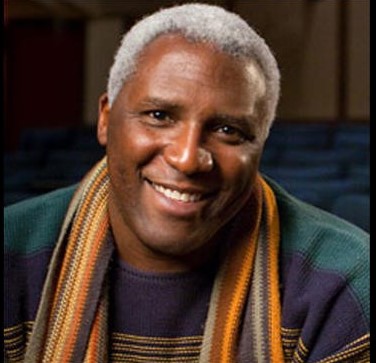 Each year the Club recognizes an Illinois graduate who has made contributions to the community as well as achievements in their chosen profession. This year we are honored to recognize Dr. Eric Pierson as the 2023 Outstanding Alum for the San Diego Illini Club. Eric holds two degrees from the University of Illinois at Urbana-Champaign, a BFA in Fine Arts and a Ph.D. from the Institute for Communications Research.
Dr. Pierson has been on the faculty at the University of San Diego for over 20 years, as a professor and former chair of the Communication Studies Department. As a scholar he has written on a variety of topics that include: film distribution in the 1970's, hate group recruiting via the Internet, film festival pedagogy, documentary film ethics, and television history. His work has appeared in Communication Journals: Screening Noir, The Journal of Mass Media Ethics, and Scope. His most recent works "The Promise of Roots" and "The Clinton 12 and Prom Night in Mississippi: Conversations in Integration" appear in Watching While Black: Centering the Television of Black Audiences and Documenting the Experience: Essays on African American History, Culture and Identity in Nonfiction Films. Dr. Pierson focuses on the ways in which the business practices of the film and television industries shape and present content on issues of race, class and gender.
Eric also regularly participates in scholarly activities outside of the traditional academic venues. Since 1999 he has been a frequent guest and panel moderator for the Roger Ebert Film Festival in Champaign/Urbana. These panels bring together critics, professionals, students, and fans for the purpose of engaging and analyzing film. Eric can be seen in the documentaries, Infiltrating Hollywood: The Rise and Fall of the Spook Who Sat By The Door, and Cover Story: The Press Your Luck Scandal. He also recently collaborated with Academy Award winner, Ruth Carter, on an exhibition of her costume designs, by contributing the film histories of those designs.
Dr. Pierson will address the topic: "What happens when students become customers?" Are Colleges and Universities in the business of educating the next generation of thinkers or is their role to create the next generation of workers? What role do alumni play in helping the University chart a course for the future while not forgetting the past?
We are proud to present Dr. Pierson as our San Diego Illini Club Outstanding Alum.
Pricing
Despite inflation we have worked hard to present an event that is reasonably priced in today's environment. The cost for members and guests is ONLY $50. Click the link below to buy your tickets today! We need to give Anthony's a final count, and we are limited to about 50 attendees so please make your reservations ASAP!