Chez Veterans Center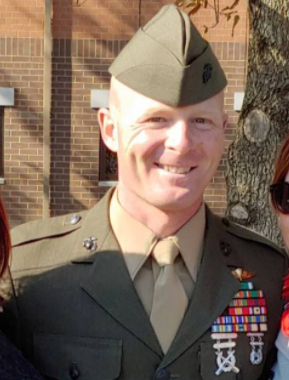 The Illini Club of San Diego county sponsors a scholarship program that benifits students via the Chez Veterans Center. The Center was constructed with state-of-the-art technology to accommodate a variety of disabilities. It features:
a large lounge for student veterans to study and interact

a kitchen was constructed to meet or exceed ADA compliance for physical disabilities

a counseling wing was designed to offer a quiet and private atmosphere for veterans and their families

a second floor is the gym, which offers a variety of equipment for all types of disabilities

an Academic and Career Center for Academic Lab and Career Workshops

fourteen residential units with suites and bathrooms providing state-of-the-art accessibility features, including a remote-controlled SureHands ceiling lift system
Jonathon Briick
Jonathon Briick is the Illini Club Scholarship award recipient ($2000) for the fall of 2021. Sargent Briick has been in the Marine Corps over 16 years and was stationed at Camp Pendleton from June 2012 till December 2018. In his first assignment, he was a Combat Instructor whose role was to lead, mentor, and inspire new Marines in their second stage of transformation into the United States Marine Corps. His duties were to teach the basics in combat such as patrolling fundamentals, convoy operations, hand and arm signals, basic radio communications, detainee operations, light, and medium machine gun operation, and many other basic infantry tactics/ operations.
Jonathon was then selected to conduct Martial Arts Instructor Courses for Marines. This arduous 15- day course prepares Marines to be part of the Marine Corps Martial Arts Program within their prospective units. They then teach and advance the Marines within their respective units through the various belt levels while building their combative readiness, continuum of force, mentoring, physical readiness, and assist in the building of the whole Marine concept. The course is physically and mentally demanding to ensure that the students can conduct the training within their own units. Sargent Briick conducted 4 cycles of Marine Combat, training over 1200 Marines, conducted 17 Martial Arts Instructor Courses certifying 285 Marines as instructors, and received Master Instructor certification.
Jonathon attained certification as a Special Operations Command Specialist and then entered Officer Candidates School at Quantico in Fall 2018. He and his family then moved to Illinois to begin his education at the University of Illinois in the Spring semester of 2019. He is majoring in Kinesiology with a teaching focus. He is a James Scholar, President of the PETE Physical Educators Club, has been on the Applied Health Sciences Deans list for 3 semesters, and has been able to obtain a cumulative GPA of 3.75. He balances his time commitment to the Naval ROTC, his wife and kids, his research group, and his heavy class schedule.
The Briick family hopes to return to California as soon as possible. They bought their first house in Fallbrook, their second child (Gunnar) was born at Scripps in Encinitas, and they spent the first 6-8 years of their children's lives in San Diego County where they still have many friends.
For more information about the Chez Veterans Center click on the following topics: