9th Annual Ears & Beers Sweet Corn Festival
Sweet Corn, Bratwurst, and Brew, Illinois style. The event will be held again at San Dieguito County Park in Solana Beach just off Interstate 5. Area 2 in the park is where we had the event three years ago.
This is an all-you-can-eat-&-drink event for adults and children of all ages. The pricing is as follows:
Adults - $25

Children ages 5-12 - $5

Children 4 & under - free

Order by June 15 and receive a $5 discount from the Adult price.
The menu will include:
The BEST sweet corn you have ever tasted
Bratwurst, hot dogs, and chicken sausages, plus all the condiments and trimmings
Soda, beer, wine, and water; Dessert
WE WILL AGAIN HAVE SOME GREAT DRAFT BEER BEING DONATED BY CLUB MEMBERS, CASH & JENNY FREEMAN. SIMILAR TO LAST YEAR, SELECTED BEERS FROM ARTIFEX BREWERY WILL BE SET UP AT A DRAFT BEER STATION.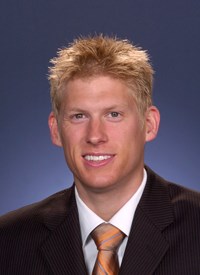 SPECIAL GUEST: Justin Spring - Men's Gymnastic Coach (and Olympic Medal Winner)
Your Illini Club is thrilled to announce that we have a commitment from Justin Spring to attend the 9th Annual Ears & Beers event. Justin just wrapped up his ninth season as the Head Coach of Fighting Illini Gymnastics and 13th season overall coaching Illinois men's gymnastics. His 2019 team recently finished 5th in the nation. He was the National Coach of the Year in 2012, and has won Big Ten Coach of the year on four different occasions, the last in 2018. At 28, he was the youngest coach in NCAA history to earn National Coach of the Year honors.
Justin Spring (https://fightingillini.com/coaches.aspx?rc=1019&path=mgym) graduated from the University of Illinois in 2006 with a bachelor's degree in speech communication and earned his master's in recreation, sports and tourism in 2014. As a student athlete, Justin was a four-time NCAA Champion, was the 2006 Champion Big Ten Gymnast of the Year and was the 2006 Nissen-Emery Award, an honor that goes to the top senior male gymnast in the nation. Spring is a two-time recipient of the Dike Eddleman Illini Athlete of the Year award.
Justin had an amazing year in 2008 that culminated with his selection to Team USA for the 2008 Beijing Olympics. Along with his teammates, Spring defied all odds as the U.S. men brought home the bronze medal and surprised everyone. Spring was spectacular in the team finals. He scored 15.900 on vault, a team-leading 15.850 on parallel bars, a spectacular 15.675 on horizontal bar, and 15.200 on floor exercise. Justin's parents reside in Point Loma and also plan to attend our event.
As an added bonus, Justin's parents who live in San Diego county will also be attending. And Justin's father, Col. Sherwood (Woody) Spring, is a West Point Graduate (1967), a test pilot, and an Astronaut https://www.youtube.com/watch?v=Y4cRz_5OHgs who has logged 165 hours in space and 12 hours of spacewalks.
Plan to enjoy all the FUN plus great food!!! San Dieguito County Park is beautiful with plenty of shade, great children's play areas, nice restrooms, hiking trails, etc. etc. We are also hoping to get additional notable Illini to attend the event. Get your reservations in NOW!
Volunteers will purchase and prep the corn the day before, and store it in water. On Saturday we will get the charcoal grills going early, and roast the corn in the wet husks. It will be kept warm, and then husked and served with plenty of melted butter. This is a proven method used by other Illini Clubs for over 25 years, and by us the last eight years. We are now experienced and will be more than ready for a large, enthusiastic Illini crowd.
All profits will go to support the Club's Scholarship Fund to assist currently enrolled University of Illinois students from San Diego County. Bring your friends, neighbors, relatives and anyone who likes to have a good time and enjoy a great picnic. Order your tickets now and check back often to get additional information.
We have reserved Area #2 at San Dieguito Park. This is the same park where we have held the event since 2012, but a different picnic area than last year. The picnic will be from Noon to 5:00. Food will be served from Noon to 4:30.
Exit the I-5 at Lomas Santa Fe, and go east one mile. Then turn left at the first stop sign. The entrance to San Dieguito Park is on the right in about 100 yards. There will be a park ranger at the gate, and he will be charging $3.00 per car, and can direct you the short distance to Area #2. You could also park free just past the park entrance on a dirt area along the road and carpool or walk into the park.
The on-line sale of tickets has ended, but you can still show up and pay at the event. Plan to join us Saturday afternnon!